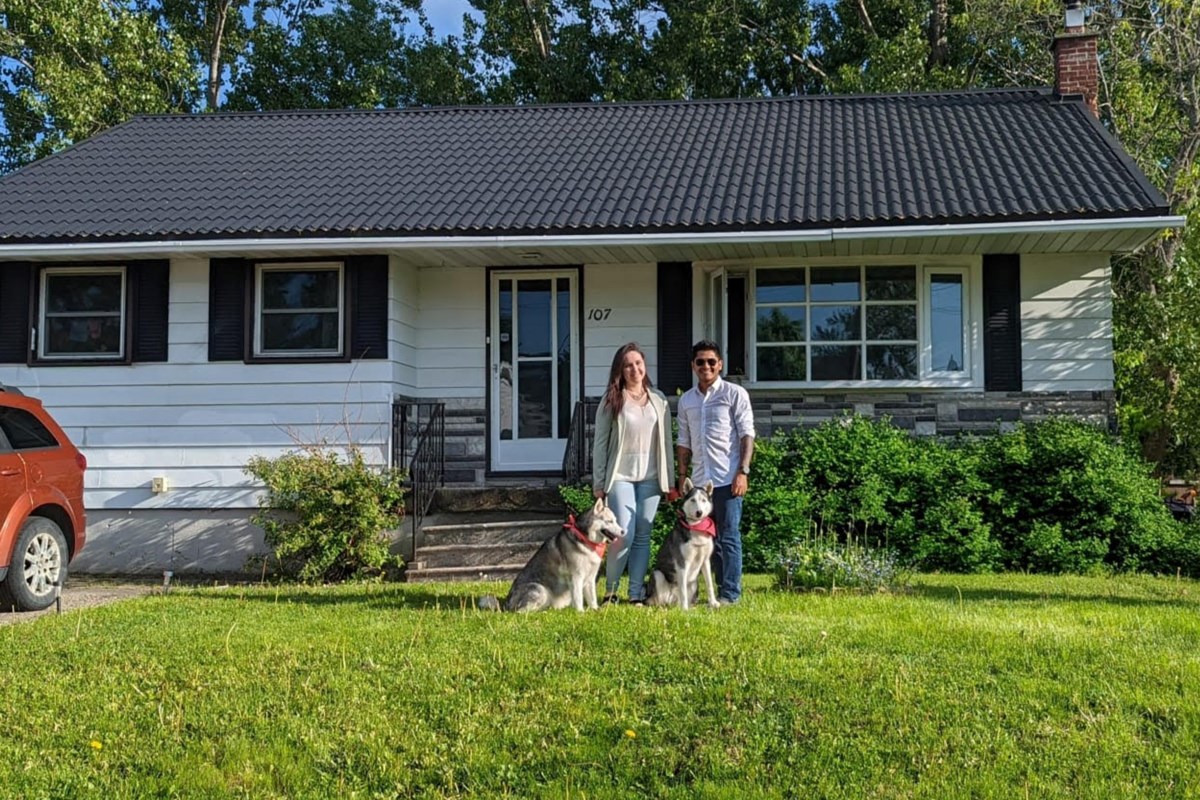 Local newcomers benefiting from an alternative housing plan
Requity Homes offers a rent-to-own program for families who don't qualify for a mortgage
It's no secret that in today's housing market, owning a home is a distant dream for many.
But a young couple, who moved from Colombia to the Sault in 2021, are less than two years away from owning their dream home — and they're already living there.
The couple joined Requity Homes last September, a northern Ontario real estate start-up offering an alternative route to homeownership for those who don't qualify for a mortgage.
Jose and Maria Andrade are like many young couples in Sault: he works in the hospitality and automotive industry, she is a student at Sault College, and together they still pay monthly rent, but with a catch.
Requity Homes is a rent-to-own program where the company purchases the home so that its clientele can move in immediately. Requity will hold it for a period of two or three years while the occupants create the context they need to traditionally finance the house.
Customers like the Andrades will have the option of buying the house back later after saving for their down payment a month at a time.
Although they didn't have a Canadian credit score before arriving in the Sault last year, the couple find themselves on track to be mortgage ready by the summer of 2024.
"We haven't tried with the traditional mortgage because we are temporary residents, so for the banks we are a risk", explains Maria Andrade. "We are working on our credit scores in order to apply for a mortgage and hopefully we will be permanent residents by then."
Requity Homes CEO Amy Ding says their target demographic is geared toward the self-employed or new business owners, as well as immigrants and newcomers with a steady income like the Andrades.
"If you're self-employed in Canada, you generally need two years of operating history to qualify for a traditional mortgage," she says. "And if you're new to the country, forget about getting a mortgage at all because you don't have a credit history in Canada, and it takes time to establish that history."
Requity operates in four northern cities: Sault Ste. Marie, Sudbury, North Bay and Thunder Bay. The program recently expanded to Saskatoon and Regina in Saskatchewan as well, with plans to continue expanding across the country.
Jonathan Mogg, president of Sault Ste. Marie Real Estate Board says it's hard to save for a down payment while paying rent at the same time and says a program like Requity helps eliminate that problem.
"It gives people the opportunity to save for a down payment while you rent," he says.
"When you qualify for this traditional financing in two or three years, you have both your down payment and the track record to traditionally finance the home," she adds.
Mogg notes that the solution is temporary and not as affordable as dealing with a bank, but he's happy to see residents have another option for owning their dream home.
"Programs like this haven't been widespread," he says. "It's good to see that there are people who think outside the box. It opens up home ownership to a wider audience, and for us, that's the most important thing.
While the Andrades are still adjusting to the Sault, the couple are incredibly grateful for this kind of opportunity in a housing market that has made it so difficult for first-time home buyers.
"As immigrants, we have fewer options to buy a home, but this program is perfect for people like us or people who are starting to build a financial life," says Maria Andrade. "I urge everyone to follow their dreams because there is nothing better than having and living in your own home."