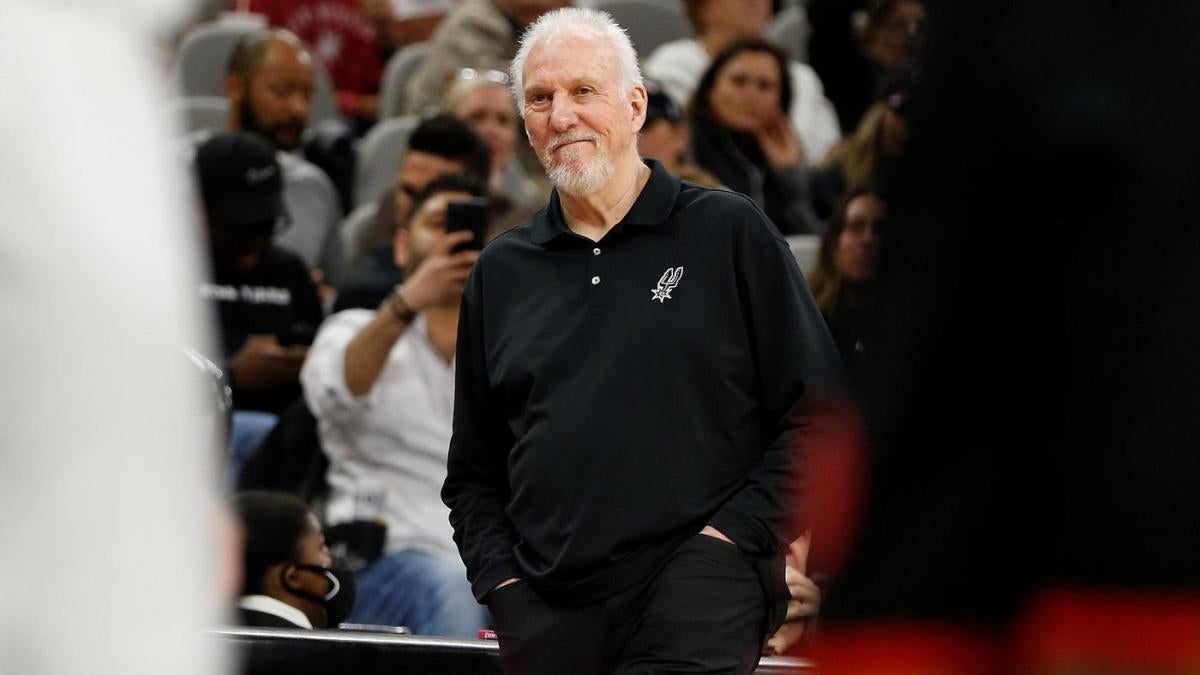 Gregg Popovich passes Don Nelson for most wins as NBA coach: Tim Duncan's draft helped, but Pop works magic
If you're one of the many people who think Gregg Popovich is the greatest coach in NBA history, you can add another point to your argument. With the San Antonio Spurs 104-102 win over the Utah Jazz on Friday, Popovich passed Don Nelson to become the NBA's winningest coach with 1,336 career wins.
In the league's 75-year history, only four coaches have held the distinction of being the all-time career winning leader: Red Auerbach, Lenny Wilkens, Nelson and now Popovich, who has won five NBA championships with San Antonio and a more regular season wins than six franchises.
Over the years, Popovich has consistently deflected the credit to those around him, players and coaches, downplaying one of the most decorated coaching resumes in all of sport. Earlier this season, Popovich was asked about the keys to his success as a coach: 'Draft Tim Duncan', he said. "After that, stay alive."
Indeed, Pop would have you believe that any coach with a beating heart could have led these Spurs teams, built around Duncan, to great heights. He doesn't think he's anything special.
But he is special. Everybody knows it. Yes, he was lucky to sign Duncan, who arrived at San Antonio for Pop's first full season as head coach in 1997-98. The season before, Spurs, who won 59 games in 1995-96, went 20-62 because David Robinson suffered perhaps the most accidental injury in history and played just six games that season. -the.
The year-long mishap landed Spurs in the lottery, where they had the third-best chance of getting the No. 1 pick (21%). The Boston Celtics had the best chance (36%) of getting Duncan, but fortune fell San Antonio's way. They got Duncan. It would be silly to suggest that it didn't change Pop's fortunes either. Spurs won a title two seasons later.
But don't let Pop fool you. All great coaches inherit great players to some degree. They draft them, trade them, sign them as a free agent, or get hired by a team that already has them on their roster. Anyway, there is always luck. The NBA just named Steve Kerr one of the 15 greatest coaches in history. He can thank Stephen Curry, Klay Thompson Draymond Green and Andre Iguodala for the first of his three coaching titles, and all those guys plus Kevin Durant for the next two.
Phil Jackson can thank Michael Jordan and Scottie Pippen. And Shaquille O'Neal and Kobe Bryant. Nick Nurse can thank his lucky star Kawhi Leonard took a one-year detour from Canada on his way back to Los Angeles. Mike Budenholzer was hired by a team that got lucky with Giannis Antetokounmpo with the 15th pick when no one thought they had to learn to spell his name.
Trying to attract big players is not the goal. That's what you do with these players. Pop has always made the most of the listings he's been offered with. He was adaptable, winning titles with heavy 3-point systems despite his noted disdain for the existence of the shot itself, as well as the strength of two-trick big men.
He is perhaps the greatest coach in history in terms of assessing, with an open mind, what he needs to work with and then coming up with a plan based on the strengths and weaknesses of those plays. He is not set in his ways. He learns from his players as much as they learn from him.
Like teams and players, different coaches have different strengths. The best are those who can do it all. Pop can do it all. He is an X and Bone magician. How many times have you heard a variation of "it's a pop game" from another league coach or broadcaster?
It goes without saying that Popovich's teams will always be ready. If you're heading into a playoff against him, you better plan what you do best for getting taken out. Yet after all these years he'll do something you didn't fully expect, even if it's only at a different time than you thought, and if you're not ready with a counter for his counter, go ahead and take your place in the long line of coaches to have been foiled by a legend.
That said, X-and-O prowess isn't what made Pop great. We love to romanticize the greatest coaches like those mad scientists scribbling genius on a napkin, but if your players don't play hard for you, if they don't trust you, if they don't care about you, you can draw plays like the guy from "Good Will Hunting" tapping on the blackboards at MIT and it won't matter. Pop players give him all. They give up their ego for him, because he does the same for them.
Tuesday, ESPN published a great series of Pop stories told by some of the players and coaches closest to him over the years, and the central theme of so many of them was how big and sincere this guy's heart is. That doesn't always seem like it when he's doing his dodgy little routine with the media, and that's not to say he's not a real badass, because he is…but that side of him never comes at the expense of the much bigger and more important team that cares so deeply for its players and their families.
Hear this story from former Spurs assistant coach Mike Brown via the aforementioned ESPN article.
"I'll never forget this: We brought in a strength trainer as an intern, he wasn't paid a lot of money at all. And his internship was over. He got a new job as a counselor for young people in Colorado. He didn't have the money to move there, and unbeknownst to anyone, we later found out that Pop had bought him a brand new [Nissan] Pathfinder simply because he knew that the young man had no real means to get to his destination and start his new life as a youth minister.

I was going through a separation at the time…my boys were living in Colorado with their mom, I was [in San Antonio]. I will never forget, they had been here for about a week and my sister was about to pick them up because we were about to go on the road. So when I dropped them off at the airport, the [team] the plane was not far [away]. They [the boys] were really crying at the door because they didn't want to go. I was about to be late. I was torn.

"I called Pop [and said,] "I'm going to be there, I'm at the airport, my children are struggling to get on the plane to go home. But just give me a few more minutes. And he says, 'Mikey, you should just stay here.' I said, "No, no, no, dad. Because we were going to Chicago and he was my scout and I have to go. [I told Pop,] "The kids will be fine."

"He said, 'If you show up on that plane, you're fired. I said "Pop, come on, man! Listen, I'm ready and ready. I'll be there in [a little bit].' He said, 'Remember, if I see you on that plane, you're fired.' Click on. He hangs up on me. So I stayed with the kids for three more days. So literally just two stories off the top of my head out of many that show his true character."
Or how about this story, still via ESPN, of Don Nelson, the guy whose record he just broke:
"He's just the greatest coach to ever put them on. When I hired him as an assistant coach [in Golden State in 1992], I thought he might learn something from me. But I learned more from him than he learned from me, that's for sure.

"When I hired him, I first met him when he flew in for an interview. And I hired him the same day, I think. … I had watched him work before the games and I just thought he was a guy I should have had. He's everything and more than I ever thought I was going to get.

"The first thing he did when he got to Golden State, he started a summer league for young kids to play and avoid the streets. They played from 10 p.m. until 2 a.m. And he got [an] reward for it. He was there every night with the children. It was in Oakland. There were hundreds of children involved in the program. It was wonderful. He really did a great job keeping the kids off the streets and out of trouble."
No coach has ever communicated better with his athletes than Pop. It nurtures and values ​​relationships. We've all heard of the big dinner parties he always takes the bill for. The long nights drinking wine, laughing together, even crying together.
In that same ESPN story, Manu Ginobili talks about Pop taking Spurs out for an Italian dinner after Ray Allen just ripped their guts out with his famous last-second shot in Game 6 of the 2013 Final, which Spurs would eventually continue. lose in game 7.
"We talked and we basically cried together," Ginobili said, via ESPN. "He went one table at a time with different players and had conversations and tried to cheer us up when we were devastated."
You hear of coaches whose players will walk through a wall for them, but do you know what motivates them to do so? It's not the fiery motivational talk in the locker room that movies like to portray; it's the relationships.
Think about the people in your life that you would do anything for. These are the people you know would do anything for you. The people who love you. Who supports you unconditionally. People who tell you the truth, who trust you, who believe in you. People who will demand the best from you but will always be there to pick you up, hug you, tell you that you will be fine when you fail.
"One of his lines that we've heard many times is, 'If this is the worst thing that's ever happened to you in your life, you have a very lucky, blessed, lucky life,'" Ginobili said in the ESPN article.
Losing basketball games is obviously not the worst thing in the world. In fact, it's the tough losses that make the wins sweeter. Pop loved everyone one of his 1,336 wins not for himself, but for his players. He is genuinely happy and humbled by the success of those around him, even though he apparently doesn't care about his own at all.
That's what people gravitate towards. My favorite story in this ESPN article is one freezing night in Toronto when Pop walked past a homeless man sleeping on the sidewalk. He picked up a bunch of money and put it in his jacket pocket, took the jacket off, put it on the guy and went on his way.
Forget sports. What inspires, as human beings, are the people who make us want to be better versions of ourselves. It's what makes a coach that even other extraordinarily talented men, who are born leaders themselves, will gladly follow.
That Popovich did it all with one franchise only makes it sweeter. He was a central piece of Spurs intelligence who drafted Kawhi Leonard midway through the first round, Tony Parker late in the first round and Manu Ginobili late in the second round. He helped make those players Hall of Famers, which in turn helped Pop become a coach who has now won more games than any other coach in history. The credit goes both ways, though Popovich will always be reluctant to accept his part.