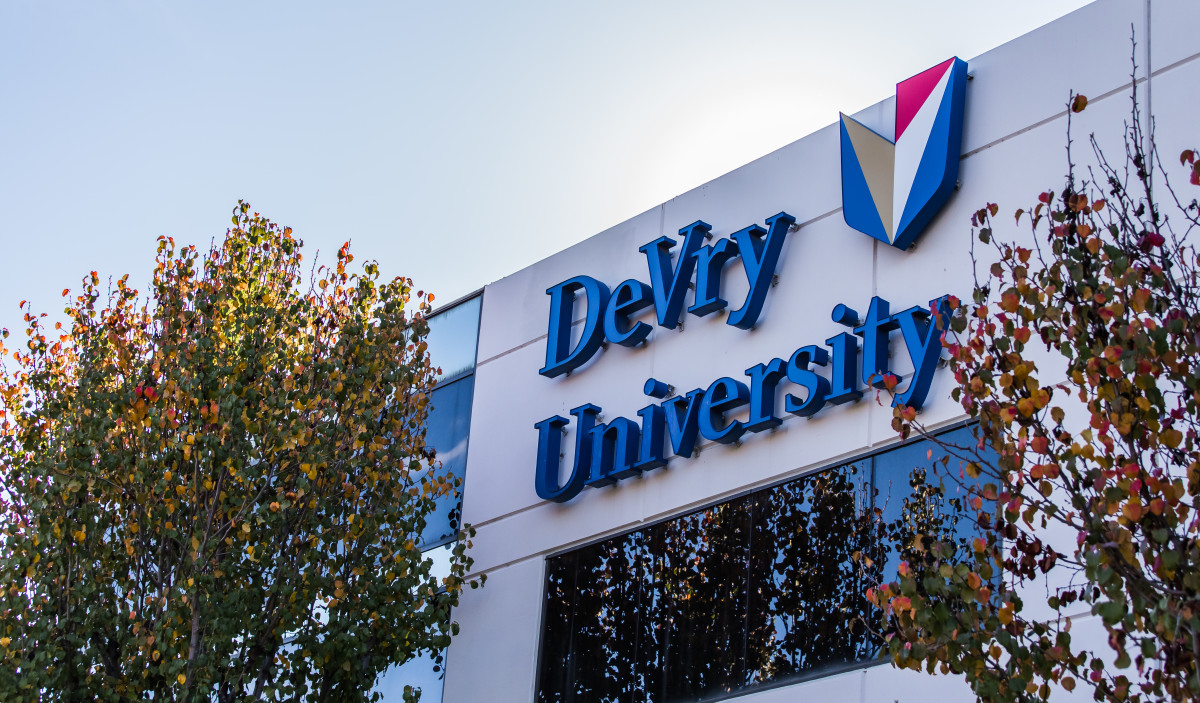 Department of Education cancels $415 million in loans for students at DeVry and other schools
The US Department of Education has discharged $415 million in student loans for some borrowers who attended for-profit schools, CBS News reports.
The agency announced the move on Wednesday, saying it had approved borrower defense requests for about 16,000 people who claimed they were scammed and misled by a handful of institutions, including DeVry University, the outlook from Westwood College, ITT Nursing and the Minnesota School of Business/Globe University.
According to the Department of Education, officials discovered that between 2008 and 2015, DeVry misled prospective students by claiming that 90% of his graduates got jobs in their fields within six months of graduating. diploma. However, the department determined that the placement of DeVry graduates was approximately 58%. Government officials allege the 90% figure was misleading because it included graduates who had landed jobs before receiving their degrees or before enrolling at DeVry.
Westwood College has been the subject of similar allegations regarding the employment of postgraduate students. Former students said the school boasted a placement rate of 80% or more. The school also reportedly promised to help alumni pay their bills if they were unable to find a job within six months of graduation. The Department of Education said it found no evidence that Westwood fulfilled that pledge.
ITT is accused of falsely telling prospective students that he had or would shortly obtain the required accreditation for his nursing program. The school reportedly spent years trying to obtain programmatic accreditation, but failed because it did not meet accreditors' standards. Without accreditation, those who have graduated from ITT's nursing program have struggled to land nursing jobs.
The Minnesota School of Business/Globe University was also found to have misled students about accreditation. The school reportedly told borrowers that its criminal justice programs would allow them to become a police officer or a parole/probation officer. However, the Department of Education reported that the programs lacked the certifications or accreditation required to make the pledges possible.
"The Department remains committed to granting discharges to borrowers when evidence shows their college has violated the law and standards," U.S. Secretary of Education Miguel Cardona said in a statement. "Students rely on their colleges to tell the truth. Unfortunately, today's results show too many cases of students being misled by loans from institutions or programs that failed to deliver on their promises.
Under Cardona, the department would have forgiven about $2 billion in student loan debt for more than 107,000 borrowers.
"When colleges and vocational schools put their own interests ahead of students, we won't look the other way," said Richard Cordray, chief operating officer of Federal Student Aid. "We are grateful to have strong enforcement and oversight partners, such as the Federal Trade Commission and the attorneys general of Colorado, Illinois and New Mexico. These offices provided key evidence that played an important role in the findings announced today. Going forward, we intend to expand our collaboration with federal and state partners to serve students.