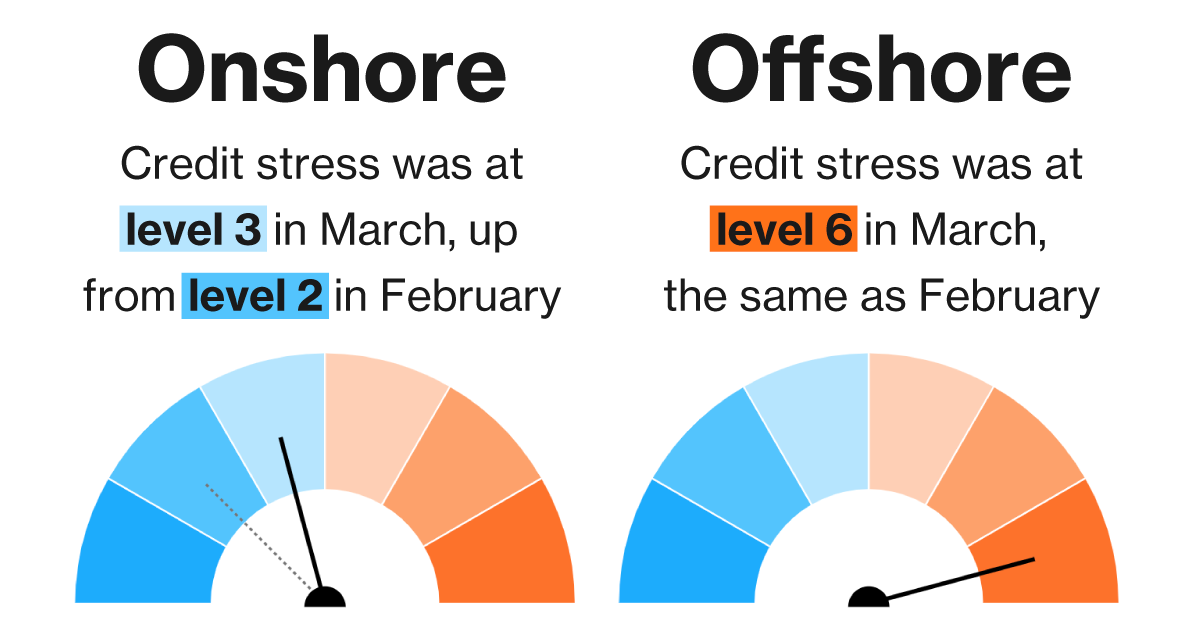 China's credit market hits crisis point as property developer defaults rise
The losses are among the worst on record. Borrowing costs are at an all-time high and large investors are reducing their positions.
China's offshore high-yield credit market is at a critical juncture: it has fallen again in recent days, after key metrics showed stress hit record levels earlier in March. Market concerns prompted wishes for political action mid-last month that helped spark a rally, but that rebound has faded in recent days amid scant signs of political detail and as Covid lockdowns weigh on sentiment.
Distress in the country's $870 billion offshore debt market remained at an all-time high, according to Bloomberg's China Credit Tracker. Losses deepened to a new low, while average yields on builder-dominated, subprime debt hit a new high of 24.9%. Rising defaults in the much larger onshore market also spurred higher stress levels, according to the tracker.
Already grappling with a crackdown that has triggered record defaults and a drop in home sales, developers need to bolster investor confidence in the struggling sector to sustain their recent rebound. Uncertainty persists over the extent of the debt of many property companies, with a number of them yet to release audited results from last year.
China's offshore high-yield market – once one of the most profitable bond markets in the world – has shrunk as many developers struggle to issue new debt. Junk and unrated builders, who dominate the speculative-grade market, have sold around $1.5 billion worth of dollar notes so far this year, down 91% from the same period in 2021, according to data compiled by Bloomberg.
More than half of high-yield developer dollar bonds were trading below 30 cents on the dollar at the end of March, according to Bloomberg Intelligence.
BlackRock Inc. is one of the biggest investors in junk real estate bonds in China. The company cut its exposure in March for the first time in months, after doubling during a period of mounting distress. Institutional investors who publicly deposit their holdings reduced their exposure last month after adding $3.7 billion in face-value dollar bonds between early November and late February, according to data compiled by Bloomberg.
Dive into Bloomberg's China Credit Tracker methodology
China's property sector has been rocked by at least 17 offshore developer defaults since authorities began cracking down on excessive borrowing and speculation in the housing market in 2020. Zhenro Properties Group Ltd., based in Shanghai, which was seen as a rare beacon of strength earlier this until it warned of a possible failure in February, became the latest to default.
In the domestic bond market, China Fortune Land Development Co.Hebei's approved debt restructuring plan pushed Hebei's defaults to the highest among provinces. Next is Fujian, where Yango Group Co. has missed bond payments on a combined total of 7 billion yuan in principal and interest so far this year. Several developers with roots in this province, known for their aggressive debt-fueled land acquisitions, have also been caught up in the real estate crisis.
After months of being trapped in the offshore bond market, there are tentative signs that property developers may find a way to access finance. CIFI Holdings Group Co.which, unlike some of its peers, released audited 2021 results, recently sold a convertible bond and is offering to issue additional notes.
Higher quality companies can also follow in the footsteps of Greentown China Holdings Ltd., which in January sold a so-called enhanced credit bond with a stand-by letter of credit. Still, demand for these types of notes from developers remains relatively untested during the industry's credit crunch, and a bank guarantee means debt generally offers lower yields.
Learn more about Bloomberg